Giant Balloons

Big Events Inc specializing in giant advertising balloons, helium parade balloons and cold air inflatables.

View our wide selection of:
Advertising Balloons

Big Events Inc manufactures custom made advertising balloons for your business. You can get a helium balloon high in the air with your logo and text, or Big Events Inc can make a giant balloon in (almost) any shape from 8' till 60' large.

Small and medium size helium advertising balloons:

Gian/ Extra Large custom made advertising balloons:
FOR RENTALS – Choose from our huge inventory of helium parade balloons and cold-air balloons, including many popular licensed characters and advertising balloons.

CUSTOM DESIGNS – Show us your plans for your advertising balloons, we will respond with a detailed quote. One balloon or several hundred, our attention to detail and quality are the highest in the industry. No job too small or too large and at very competitive prices.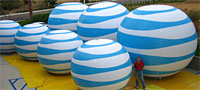 Inflatable Balloons, Advertising Balloons, Giant Helium Balloons. Large advertising balloons in the industry.

Giant Inflatable Rentals, Cold Air Inflatable Rentals, Cold Air Balloons: Animals, Christmas, Patriotic.

Giant Parade Balloons, Parade Balloons, Giant Inflatables

Advertising Inflatables, Promotional Inflatables, Advertising Balloons,

Lighted Spheres
Seasonal/ Special Events